READ THE FULL ARTICLE ON SILVERSEEK:
The new short report for both SLV and GLD were posted on The Wall Street Journal's website on Friday evening. The short position in silver jumped from 32.18 million shares/troy ounces, up to 38.13 million shares/troy ounces...and increase of 18.49 percent -- and I know that Ted won't be happy to see that. The short position in GLD also rose, from 1.027 million troy ounces, up to 1.204 million troy ounces...an increase of 17.24 percent.
In GLD, these numbers are neither excessive or worrisome...but that's not the case for the short position in SLV.
What it means in a nutshell is that the authorized participants have been shorting SLV shares in lieu of depositing physical metal as its prospectus demands. That amount of physical silver is either unavailable...or if it is, purchasing it would drive the silver price to the moon. I know that Ted will certainly have something to say about it in his weekly review for his paying subscribers this afternoon.
In other gold and silver ETFs and mutual funds on Planet Earth on Friday, net of any changes in COMEX, GLD & SLV inventories, there was a net 52,599 troy ounces of gold added -- and a net 178,335 troy ounces of silver was added as well.
There was a sales report from the U.S. Mint yesterday, as they sold 10,000 troy ounces of gold eagles...2,000 one-ounce 24K gold buffaloes -- and zero silver eagles.
Month-to-date the mint has sold 20,000 troy ounces of gold eagles -- 10,000 one-ounce 24K gold buffaloes -- and 750,000 silver eagles...producing a silver/gold sales ratio of 25 to 1.
There was a bit of activity in gold over at the COMEX-approved depositories on the U.S. east coast on Thursday. There was 64,812 troy ounces of gold received -- and every bar of that ended up at JPMorgan's 'Enhanced Delivery' sub-depository. There was also 12,036 troy ounces shipped out of that sub-depository as well. The remaining 'out' activity was 64.300 troy ounces/2 kilobars, that departed Brink's, Inc. There was a bit of paper activity, as 5,980.086 troy ounces/186 kilobars was transferred from the Registered category and back into Eligible over at Loomis International. The link to Thursday's COMEX gold activity is here.
It was certainly busier in silver, as 605,913 troy ounces, one truckload, was dropped off at CNT -- and that was all the 'in' activity there was. There was a total of 730,269 troy ounces shipped out -- and of that amount, there was 685,594 troy ounces that departed CNT as well. The remaining 44,674 troy ounces was shipped out of HSBC USA. There was no paper activity. The link to all of the above silver activity is here.
There was a fair amount of activity over at the COMEX-approved gold kilobar depositories in Hong Kong on their Thursday. They reported receiving 1,099 kilobars -- and shipped out shipped out 1,030 of them. Except for the 33 kilobars that arrived at Loomis International, the remaining in/out activity was at Brink's, Inc. as always. The link to this, in troy ounces, is here.

Here are the usual two 20-year charts that show up in this space almost every Saturday. They show the total amount of physical gold and silver in all know depositories, ETFs and mutual funds as of the close of business on Friday.
For the week just past, there was a net 164,000 troy ounces of gold added -- and in silver, there was a net 3,070,000 troy ounces removed -- and all of that silver came out of either SLV or the COMEX, as the rest of the world's ETFs and mutual funds showed a net increase for the week. Click to enlarge for both.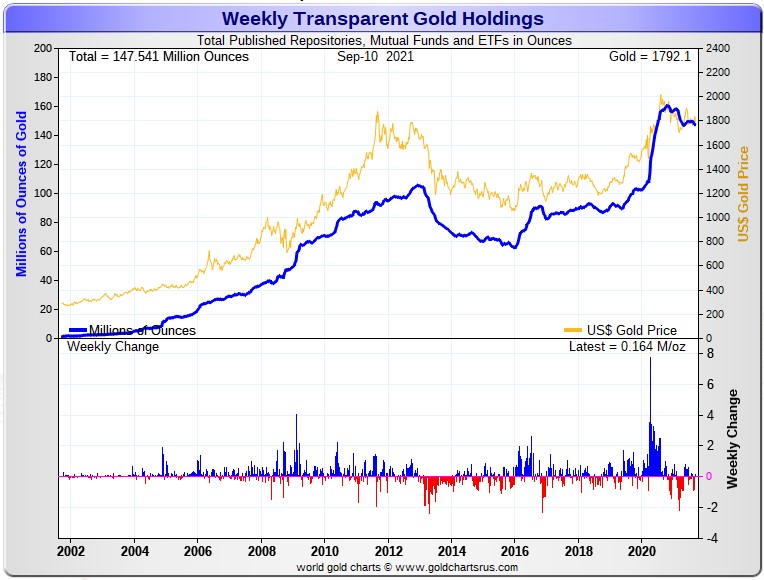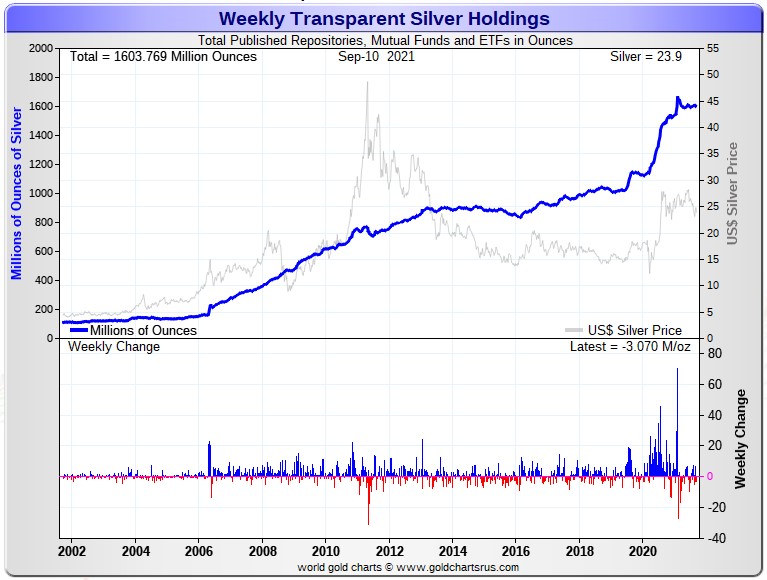 As I mention just about every week, looking at the above two charts, one would never know that eye-watering engineered price declines had ever occurred in silver and gold a month ago, as there's little if any sign of it.
And considering the price activity recently, the above charts continue to show how tightly held the physical precious metals are...especially silver -- and that's despite the punishment handed out by the Big 8 shorts over that time period.
These two precious metals are being held by the strongest of hands...including ours.
READ THE FULL ARTICLE ON SILVERSEEK:
About the author